Machu Picchu and Aguas Calientes
The well-known Inca citadel Machu Picchu was hidden from the world for many years because it's remote location: Machu Picchu is quite inaccessible as it is located high up on a mountainside. Visiting Machu Picchu – one of the 7 new world wonders – is a bucket list experience and a dream-come-true for many travelers.
Aguas Calientes
The nearest town from Machu Picchu and the point of departure for everyone who wants to visit Machu Picchu – except for Inca trail hikers - is Aguas Calientes. The town is located down in the valley beside the Vilcanota River. Aguas Calientes (aka Machu Picchu town) is only a few kilometers away from Machu Picchu if viewed from above, but it takes a bus about 20-25 minutes to climb the narrow, steep zigzagging dirt track that connects the two. Walking takes approximately one hour and a half to two hours.

Bus from Aguas Calientes to Machu Picchu
The bus ride from Aguas Calientes up to Machu Picchu is spectacular as the narrow track heads its way up the mountainside. Your heart leaps a bit when you look upon some of the vertical drops that plunge down to the Vilcanota Valley. However, the buses are safe and once you reach the top, it is all worth it as you gaze upon the magnificent ruins.
After spending time touring the ruins of Machu Picchu, you can take the shuttle bus back down to Aguas Caliente and soak yourself in the natural hot baths that still exist in this town. There are many restaurants, hotels, cafes and small shops, so there is some distraction after a long day of exploring the famous Machu Picchu before you take the train back to Ollantaytambo and Cusco.
Roads to Machu Picchu?
Roads do not connect Aguas Calientes to the outside world. You can reach the village only by train from Cusco and Ollantaytambo. The closest you can get by road (bus or car) is approximately 15 kilometers away (from Cusco the bus goes via Santa Teresa to Hidroeléctrica; from there is it a 3 hour walk to Aguas Calientes).
Trekking to Machu Picchu
There are many stunning treks that lead to the amazing citadel Machu Picchu including the Classic 4 day Inca Trail. You must book the Inca Trail well in advance as the Inca Trail fills up quickly; however there are many alternative treks that one can take to visit Machu Picchu like e.g. the Salkantay Trek, the Lares Trek.
Read more: Hiking in the Sacred Valley
Machu Picchu
The Inca city of Machu Picchu, located about 120 km northwest of Cusco, was hidden from the world in dense jungle covered mountains until 1911. This 'Lost City of the Incas' is one of the world's archaeological jewels and is one of South America's major travel destinations.
The well-preserved ruins of Machu Picchu are gorgeous and surrounded by towering green mountains overlooking the Urubamba River Valley. Even after having seen the classic photos of Machu Picchu, words can still not seem to capture the essence of this awe-inspiring place.
When you read about its discovery and the unsolved mystery surrounding its creation, it is no wonder why so many people make the trip to Machu Picchu to visit this fascinating and spiritual site.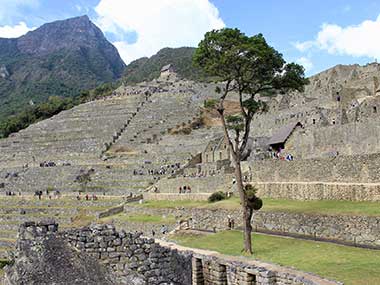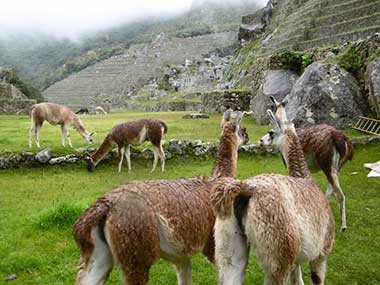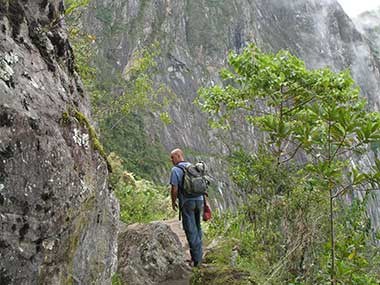 Visit Machu Picchu
With the right information, getting to Machu Picchu is not difficult. You can either book all the components of the trip yourself (very time consuming because the websites not always work well, or don't accept your credit card etc.) or buy a ready-made package tour including all the necessary transport (van, train, shuttle bus), the entrance ticket, the guiding and - if you wish to stay in Aguas Calientes for the night - , a hotel. As the popularity of this new world wonder continues to increase, it is very important your arrangements in advance (several weeks or sometimes even months before).
Trains to Machu Picchu
During the peak months of April to September, the train tickets can be sold out in advance so it is important to make train reservations as far in advance as possible, especially if you are on a tight schedule. It is best not to wait until you arrive in Cusco to buy your train tickets.
Also Machu Picchu entrance fee tickets need to be bought well in advance (in high season up to 6 weeks in advance). Make sure you match your entrance tickets (they have time slots) with your trains.
The two rail companies operating trains to Machu Picchu are Peru Rail and Inca Rail. Since there is not a lot of competition, the prices are quite high but the service is good. Details of the train services, departure times and prices can be found on their websites. There are first class and second class train services.
Tours or Treks to Machu Picchu
Whether you are interested in the enlightening Inca Trail, or want to take an independent tour to Machu Picchu, our travel partner Dos Manos can help you arrange everything down to the last detail. Check Dos Manos Peru Travel website for further information and assistance in making all your traveling dreams come true!
Machu Picchu and the Sacred Valley
Machu Picchu and the Sacred Valley are one of the most impressive, rich and spiritual places on earth where ancient cultures combine with breathtaking scenery.
Learning Spanish in Cusco and learning Spanish in Sacred Valley is a truly unique experience. With lovely villages sprawled out around the area, there are plenty of day trips, cultural and outdoor experiences and fun activities to take advantage of.
Pisac, Ollantaytambo and Urubumba are all in close proximity and give amazing views of the luscious, green Valley. The mystic Peruvian culture will inspire you to dig deeper into the Spanish language and explore the culture that has influenced this area over the centuries.