What is the Sacred Valley
About the Sacred Valley:
Nestled deep in the Andes of Peru, the spectacular Sacred Valley was originally the heart of the vast Incan Empire during the 15th and 16th centuries. According to Inca mythology, Manco Capac, the first Inca king, was brought up from the watery depths of Lake Titicaca by the sun god Inti, and established the Inca Empire in Cusco. Radiating from the capital of Cusco, engineers created over 5000 miles of intricate stone roads, tunnels and bridges to ease communication within the Empire. The Valley was quite valuable to the Incas due to its special climatic and geographical qualities. It was the best place for the production of maize in the entirety of Peru and became one of the Empire's most important areas of natural wealth.
This magical valley is long and narrow, stretching from Urcos in the South and narrowing at Ollantaytambo before finally coming to a halt at the citadel of Machu Picchu.
The Sacred Valley begins just 10 miles from the city of Cusco, rewarding visitors with spectacular vistas of the Andes mountains, majestic Inca ruins, charming villages, a beautiful climate and most important of all, knowledge of the rich history that fills the valley.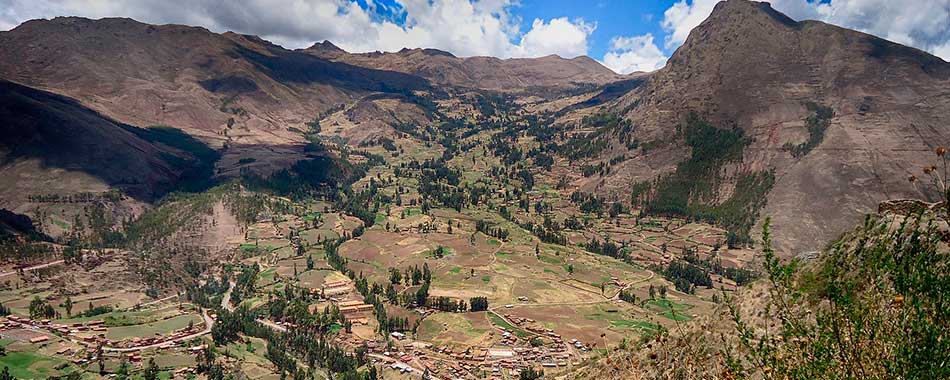 The abundant terraces (or andenes) that can be spied throughout the valley are an attestation to the ample production of food within the Inca Empire, while the majestic ruins of Ollantaytambo and Sacsayhuaman are a monument to the Incas' talent for audacious construction.
Flowing through the valley is the temperamental Urubamba river, where daring explorers can try their hand at white water rafting. Trek through the hills and gaze at the inspiring mountains all while admiring the small country villages.
The climate is pleasant because of the elevation – 600 metres lower than Cusco (3,400m). The best time to visit the Sacred Valley is between April and May or September and October, out of the high season when the valley is swarming with tourists. The rainier season (October to March) is also a pleasant time to visit and is cheaper than during the high season.
There are many towns full of history and charm scattered throughout the Sacred Valley. From Pisac, which boasts the best Sunday market in the area, to Urubamba and Chinchero, there is something to interest everyone. To visit the various ruins and places of interest within the Sacred Valley it is necessary to buy the Boleto Turistico, which can be bought in Cusco or on site at any of the locations that require it, and is valid for 10 days. It can be bought for 130 soles (around $43) or 70 soles (around $26) for students with valid identification. In addition, it is possible to buy a partial ticket that lasts for one day (70 soles). The Boleto Turistico allows for entrance into the ruins, as well as sites of interest in Cusco. Machu Picchu is not included in the Boleto Turistico, and costs around $50 for admission.