Spanish Lessons in the Sacred Valley
The Sacred Valley is a unique destination for a Spanish immersion course in Peru, where you can study in a tranquil setting while learning a new language. Our Spanish school is the perfect place! Due to the lower altitude, the climate here is warmer than in Cusco, providing ample opportunities to study Spanish outside and embark on outdoor adventures. Here you can explore Peru as it is and absorb the culture and the world around you.
Our school offers customized tuition at the level and pace that suits your personal goals. We work with an interactive and communicative teaching method. You can combine your Spanish lessons in the Sacred Valley with the Spanish courses at our Cusco school.
Start:
Min. No. of students:
Max. No. of students:
Duration:
Level of Spanish:
Accommodation:
Sessions/week:
Included:
The Spanish lessons include free student activities, all lesson materials, a certificate, and a welcome meeting. We offer day trips at a low rate, so you can go and visit the salt mines in Maras, the fortress in Urubamba, or visit Pisac, join a beautiful day hike in the hills, or join a traditional Peruvian dishes cooking class.
The Spanish classes in the Sacred Valley take place either in the (early) morning or in the (late) afternoon, giving you time to explore the valley. Our Spanish courses are for all Spanish skill levels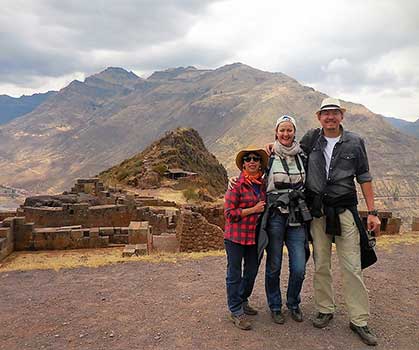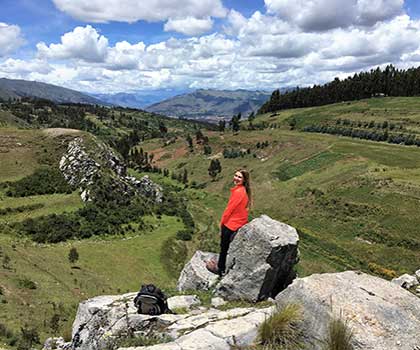 Why Learn Spanish in the Sacred Valley in Peru
Our students tell us there is a difference between "studying Spanish" and "learning Spanish." Learning and starting to speak Spanish is more than memorizing Spanish vocabulary, reviewing grammar, and learning verb tenses." Many things you cannot learn in class or from a book. Being there where the language is spoken is the key, and the experience is the real teacher". Through this technique, you speed up comprehension, and through daily usage, you begin to actually live the Spanish language.
To learn Spanish in Peru, you may have temporarily left your job, family, or school responsibilities. If you choose to live in a small, quiet village in the Sacred Valley, this means that now you can focus 100 percent on learning Spanish without distractions other than the beauty and nature that surround you.
Everything else will contribute to learning Spanish. Whether you study in Cusco or in the Sacred Valley, when you are catching a bus, ordering a meal, shopping at the local market in Urubamba, or talking to the people, all will give you a 24-hour learning environment.
Our Spanish instructors give time to the subjects of your passion during free conversation time. So whether your passion is food, art, travel, or history, we offer a Spanish program in the Sacred Valley that will allow you to pursue those interests while you learn Spanish.
Compared to many home-country Spanish courses, your Spanish classes in Peru will cost less, even when airfare, lodging, and meals are considered. While considering your career goals, take into account that many advanced degree programs and some of your future potential employers require foreign languages and international exposure or experience.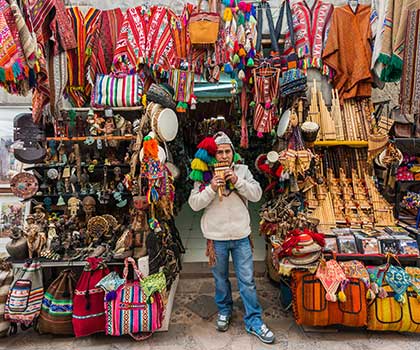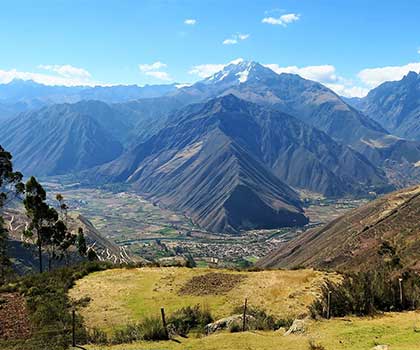 Levels of Spanish
There are four levels (with consequent sublevels) following the curriculum of the Instituto Cervantes and their equivalents in the Council of Europe. Each level takes between five and eight weeks to complete in full. Interested students can combine their lessons in different locations in Peru. For instance, you spend a week or two in our Spanish School in the Sacred Valley and then head over to Cusco, Tambopata, or Lima. Studying Spanish in multiple locations in Peru will give you a full scope of the language and open you up to the various people and cultures that speak Spanish.
Beginners (A1+A2)
This level is for those without any knowledge of the Spanish Language. Upon completion, you will be able to formulate and understand short sentences relating to basic necessities and forms of politeness.
Intermediate (B1)
The B1 level will bring you to a higher level of comprehension and expression in Spanish. As a result, you will be able to express yourself, perhaps sometimes with a little difficulty, but usually spontaneously and independently, in everyday situations.
Advanced (B2)
You will have advanced communication ability, even in complicated situations. In addition, you will work extensively on past tenses and will be introduced to the subjunctive.
Superior (C1+C2)
At this level, you will clear up minor imperfections and refine your Spanish pronunciation and intonation. You can now communicate in Spanish, without difficulty, with native Spanish speakers. Errors and deficiencies in Spanish grammar structures that still exist will be corrected.