Excursions, Walks & Activities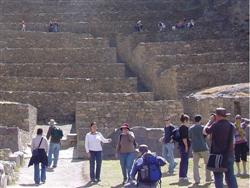 Although there is much to see and do when on your own throughout the Sacred Valley, Amauta Spanish School offers its own excursions and activities for students that would prefer to stay in groups. There is so much to explore in this fantastic region!
Some popular trips include the market and ruins in Pisac, the village of Chincheros or the old Inca town Ollantaytambo. If you love outdoor activities, we have four mountain bikes available that you can use without any additional cost.
If you choose to study at the school in the Sacred Valley, there are two excursions included in your program, both of them occur after the morning classes
Examples of excursions and activities include:
An excursion to the Salt Mines in Maras. These beautiful terraces have been finely carved from stone, and we can also see lintels with sculptures. The salt mines (or pans) have been exploited since Inca times and during the Vice-regency, it was the largest salt producer in the southern highlands. This hike offers exceptional scenery and the opportunity to see the salt mines, which are still in use by the local people.
A beautiful hike to the hills behind Urubamba. One can wander for hours along narrow farm lanes or pass by the traditional Andean people as they live their daily lives of simplicity. This is a tranquil and beautiful hike that only enhances the feeling of being in Peru and really experiencing the local life.
Take an excursion to the old Inca town of Ollantaytambo, built on original Inca Foundations. The town is divided into canchas (blocks) that are almost entirely intact. Each cancha has only one entrance that is usually a huge stone doorway, which leads into a central courtyard. The town is located at the foot of some spectacular Inca Ruins that protected the strategic entrance to the lower Urubamba Valley.
A Cooking Class
A Walking / City Tour in Urubamba and surroundings on the day of arrival.
(Please note that for some of the excursions you will have to pay your own entrance fee.)