Money

You are unable to change Travelers Cheques in the Sacred Valley / Urubamba; so we recommend you take local currency, or US dollars. There are shops and restaurants that do accept credit cards, but best to take money out of the local ATM. Many businesses charge an additional 6% or 7% interest to any credit card transactions.
Laundry Services:
There is laundry service located in Urubamba and laundry detergent can also be bought there for those who want to do their laundry on their own.
What to bring:
It is always good to have a list of things that you need to bring before travelling overseas. Because Yanahuara is a bit outside of Cusco, some things are not available in the nearby area. Clothes, shoes and other articles of clothing are available in the centre of Urubamba but there is not a large selection and most articles are more "souvenir flavored" then everyday clothes that you may normally wear. So make sure to pack all of your favorite T-shirts, jeans, shoes and sweatshirts for the chilly nights. Here is a list of the "must have" things to bring to Sacred Valley.
Soles. It is possible to change cash dollars (at the Plaza de Armas) but the exchange rate is not very good. There is also one ATM machine at the Plaza de Armas in Urubamba, but it does not accept all cards.
The Tourist Ticket ('Boleto Turístico') is necessary if you want to go to the Pisac and/or Ollantaytambo ruins. These tickets can also be purchased on site.
Walking shoes
Clean clothes (there is no laundry service at the school nor laundry in Urubamba) and a towel.
Warm sweater. Although it is warmer than Cusco during the day, it still is cool at night.
Spanish books & dictionary
Sun Cream, hat & sunglasses
Novels or music for relaxation
Flashlight/ torch
Your own travel medical kit
Spanish dictionary to help you get started
A camera to capture all of the magnificent sites and memories
Copy of your passport
Rain jacket if traveling during the rainy season
Climate: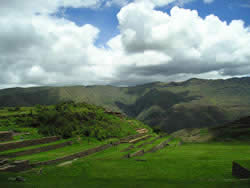 The climate in the Sacred Valley is quite beautiful. Though it is still at a higher altitude then many other places, it is lower than in Cusco and therefore a bit warmer. As in Cusco, the Sacred Valley experiences both the rainy and dry season. Rainy season is between November and April. The heavy rain may fall suddenly with stronger winds blowing in. The blue sky made hide away for a bit, but the rainy season has its advantages. The hills are lush and beautiful as they are covered with thick grass and flourishing flora.
During dry season the colors of the sky are brilliant but the air is quite dry. Generally nights are cold and it can be freezing at dawn so when traveling out to the Sacred Valley region it is always best to bring clothes for cooler weather. The sky at night is full of stars that will you leave you gazing till dawn. Talking about its climate, the Sacred Valley is the perfect place. The ancient Peruvians realized the advantages of this lovely climate and came to the region to find cures for their diseases. With a land full of vegetation and comfortable temperatures, the Sacred Valley is ideal for those looking to escape the everyday towns and cities. Temperatures usually range in the mid to upper 60's. During the winter, nights are much cooler, but daytime temperatures are delightful. The summertime temperatures are much the same as during the winter, however the evenings are not as chilly.