Group courses: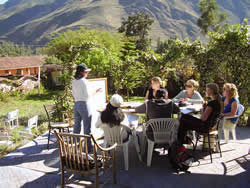 All our group courses (at least 8 different sub-levels), start any Monday of the year. Classes take place either in the morning or in the afternoon.
All groups work with two different teachers who rotate, so the students get exposed to the different varieties of spoken Spanish.
There is a maximum of six students per group. From complete beginners to very advanced.
Individual course:
Individual Spanish lessons are offered for the individual course. A program especially tailored for our students specific needs and interests. Students can give us their preferences for certain hours and teachers.
This course is especially recommended for people that have specific needs (e.g. more/less grammar, special learning needs, younger than 16 years, Survival Spanish: a fast survey of Spanish directed towards speaking Spanish while traveling in Latin America, etc.).
Our individual course by hours can start any day of the week; course packages of twenty hours start any Monday.
Best Of Both (combination group and individual)
Our Best of Both Course: Best of Both allows you to take advantage of having fun, dynamic classes, and learning more from and about student's friends in a group class (four hours a day), in combination with the personal attention you can only get from a private teacher, during (one or two hours) the afternoons.
Quechua classes:
Be part of this unique course in the original language of the Incas, ?Runasimi? or Quechua. With just a couple of hours, students will receive an insight of how rich traditional Peruvian cultures and languages are. People in Cusco, specifically at the countryside, will greatly appreciate: an ?Allillanchu? (Good morning, how are you); it will immediately open doors for you. Quechua is not an easy language and a intermediate level of Spanish is required. However, the course is completely communicative-oriented and in a short period of time students will be able to speak and understand slowly spoken sentences. This course can be booked by hours (10 minimum) and can start any day of the week.
All In One : Spanish + Excursions + Volunteering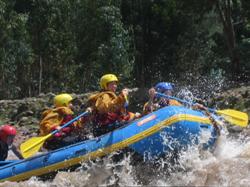 Machupicchu Spanish + Excursion + Volunteer work in AMAUTA Spanish language school.
Upon request of many alumni, AMAUTA presents the possibility to study Spanish, participate in the Volunteer Work Program and enjoy several organized excursions and activities, all in a 3-week program!.
This program is particularly designed for people who want to try a bit of everything but unfortunately don't have enough time. We have included the best of all our programs, all in one!
Participants take two weeks or 40 hours of individual Spanish Classes at AMAUTA SACRED VALLEY and dive deeper into the Inca Culture, following this up by 20 hours of volunteering in a project for (street) children, a school or a hospital.
This program can also be done at our famous Cusco location.
Three weeks of accommodation at the Students Residence are included as well as free participation in the Cultural Workshop Program (total of 20 hours), a day trip to the famous lost city of the Incas, Machu Picchu, and a River Rafting or Horse Back Riding Trip in Cusco.
Different activities are organized (meeting, workshops) while volunteering; furthermore volunteers can count with the continuous support of our Volunteer Coordinator, who will have at least one personal interview with each volunteer and take him/her to the project the first day of work.
All volunteers participate in all the free activities for AMAUTA students.
Fixed starting dates: t.b.c.
Spanish and spirituality: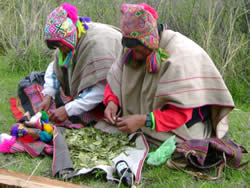 Peru is believed to be one of the most spiritual places on earth. Not only can you learn Spanish, but you will also discover more about yourself, through ceremonial activities and rituals of the Andean world. Discover the fascinating beliefs of the Inca people in our 2 wk program.
Our fascinating Spanish and spirituality course will include classes, accommodation, daily spiritual activities, a trek to Machu Picchu with a shaman and all meals.
Fixed starting dates: t.b.c.
Spanish and Yoga: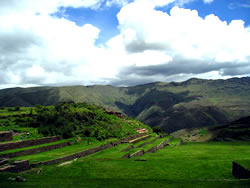 Learn Spanish and Yoga in Peru. Cusco is undoubtedly one of the most spiritual and inspiring locations on earth and our schools in Cusco and the Sacred Valley are the perfect places for a Spanish & Yoga retreat. Nurture yourself with our Spanish, yoga & massage program.
Participants join our communicative Spanish Group Course (four hours daily) and practice two hours of yoga three times a week. The first week we will be attending our Cusco school and live with host families or in our student residence; the second week we go to the Sacred Valley of the Incas, with our Spanish teacher and Yoga instructor, and there we enjoy the tranquility, peace and rustic life in a typical, Andean village. One relaxation massage is included for all participants.
The yoga classes will be given in our yoga room, in a yoga studio, in the gardens of the school or outdoors at the famous Inca ruins overlooking the impressive valleys of Cusco. Your teacher will guide you through the asanas (postures) which are designed to build strength, balance and alignment, and to rebalance your body. Yoga mats are provided.
Fixed starting dates: t.b.c.